Are you hosting Thanksgiving this year?  Are you looking for a new way to prepare the turkey?  Look no further!  This recipe is delicious and easy to follow!  Your turkey will be a hit with your guests!  Since Thanksgiving is next week, we thought we'd share the recipe now so you can be prepared.  If you are seeing this after Thanksgiving, that's ok!  We think this would be delicious for Christmas dinner, too!
Honey Brined Smoked Turkey
Courtesy of Alton Brown
Total: 13 hr
Active: 15 min
Yield: 10 to 12 servings
Level: Easy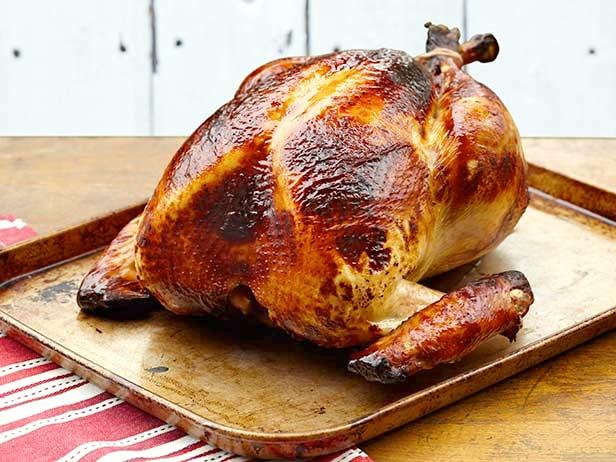 Ingredients
1 gallon hot water
1 pound kosher salt
2 quarts vegetable broth
1 pound honey
1 (7-pound) bag of ice
1 (15 to 20-pound) turkey, with giblets removed
Vegetable oil, for rubbing turkey
Directions
Combine the hot water and the salt in a 54-quart cooler. Stir until the salt dissolves. Stir in the vegetable broth and the honey. Add the ice and stir. Place the turkey in the brine, breast side up, and cover with cooler lid.. Brine overnight, up to 12 hours.
Remove the turkey from the brine and dry thoroughly. Rub the bird thoroughly with the vegetable oil.
Heat the grill to 400 degrees F.
Using a double thickness of heavy-duty aluminum foil, build a smoke bomb. Place a cup of hickory wood chips in the center of the foil and gather up the edges, making a small pouch. Leave the pouch open at the top. Set this directly on the charcoal or on the metal bar over the gas flame. Set the turkey over indirect heat, insert a probe thermometer into the thickest part of the breast meat, and set the alarm for 160 degrees F. Close the lid and cook for 1 hour.
After 1 hour check the bird; if the skin is golden brown, cover with aluminum foil and continue cooking. Also, after 1 hour, replace wood chips with second cup.
Once the bird reaches 160 degrees F, remove from grill, cover with aluminum foil, and allow to rest for 1 hour. Carve and serve.
Source: http://www.foodnetwork.com/recipes/alton-brown/honey-brined-smoked-turkey-recipe2-2203632
/wp-content/uploads/2016/11/crocket-honey-logo.png
0
0
/wp-content/uploads/2016/11/crocket-honey-logo.png
2017-11-14 16:41:16
2017-11-14 16:41:16
Thanksgiving Honey Brined Smoked Turkey